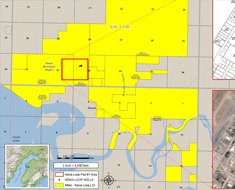 With experience in the Haynesville, Bakken, Marcellus, Barnett, Eagle Ford & Tuscaloosa Marine formations, Red River provides the knowledge and understanding needed to produce functioning, legible maps for day to day use, or time visualizations to demonstrate trends.

A Geographic Information System (GIS) is an invaluable tool to companies that aspire to obtain a competitive and profitable edge in any industry – specifically the natural resources industry.  Some basic uses of GIS are: identifying open / unleased tracts for leasing / top leasing, assessing competitor activity, and tracking trends for smarter decision making. These tasks can be completed with up-to-date information available online or in conjunction with field workers.

A standard leasehold / title / curative broker staff is composed of multiple employees to carry out the tasks at hand for the client. One major setback in this arrangement is the lack of communication between workers. With Red River's systems in place, groups now have the capability of seeing real time progress – effectively eliminating duplicate work and, in turn, increasing efficiency throughout the crew. In addition to the centralized location of the job-specific data, different maps can be generated on a "need-to-know" basis.

Red River provides concepts for geo-tagged multimedia browsing in the form of an attractive, easy to use map. We can turn your leasehold documents & research into a system that allows for detailed analysis and multiple display options tailored to your workflow. Our services have been vital in helping clients develop large acreage positions in various oil & gas plays throughout the United States.